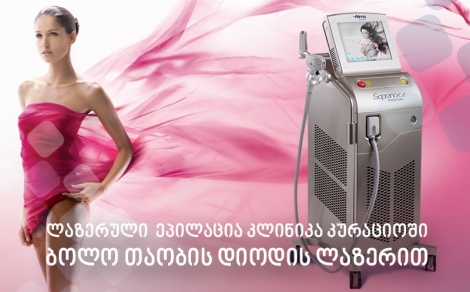 Diode Laser Hair Removal
May 19, 2014
Diode laser hair removal is the gold standard for permanent hair removal. Advantage of diode laser is that it is effective for all types of skin, white to dark brown, which is quite frequent in Georgia. Diode laser hair removal is effective and safe even on tanned skin all year round.
The Fitzpatrick Scale is a numerical classification schema for the color of skin. It was developed by Thomas Fitzpatrick as a way to classify the response of different types of skin to ultraviolet (UV) light.
Type I - Pale white; blond or red hair; blue eyes; freckles — Always burns, never tans
Type II - White; fair; blond or red hair; blue, green or hazel eyes — Usually burns, tans minimally
Type III - Cream white; fair with any hair or eye color; quite common — Sometimes mild burn, tans uniformly
Type IV - Moderate brown; typical Mediterranean skin tone — Rarely burns, always tans well
Type V - Dark brown; Middle Eastern skin types — Very rarely burns, tans very easily
Type VI - Deeply pigmented dark brown to black — Never burns, tans very easily
Diode laser hair removal is effective for types I-V, at the same time Alexandrite laser is used for skin types I-III. (uptodate.com)
Soprano ICE is the latest innovation in hair-removal technology; it is the newest version of "Alma Lasers".
The Soprano hair-removal treatment is suitable for all areas of the body, with NO PAIN and no recovery time. This multi award-winning laser hair removal system uses a diode laser that is specially designed to remove unwanted hair faster, more comfortably, and with fewer visits than ever before.
The safety and efficiency of "Soprano Ice" laser hair removal is approved by FDA (U.S. Food and Drug Administration).
To make an appointment, please call 243 01 01.