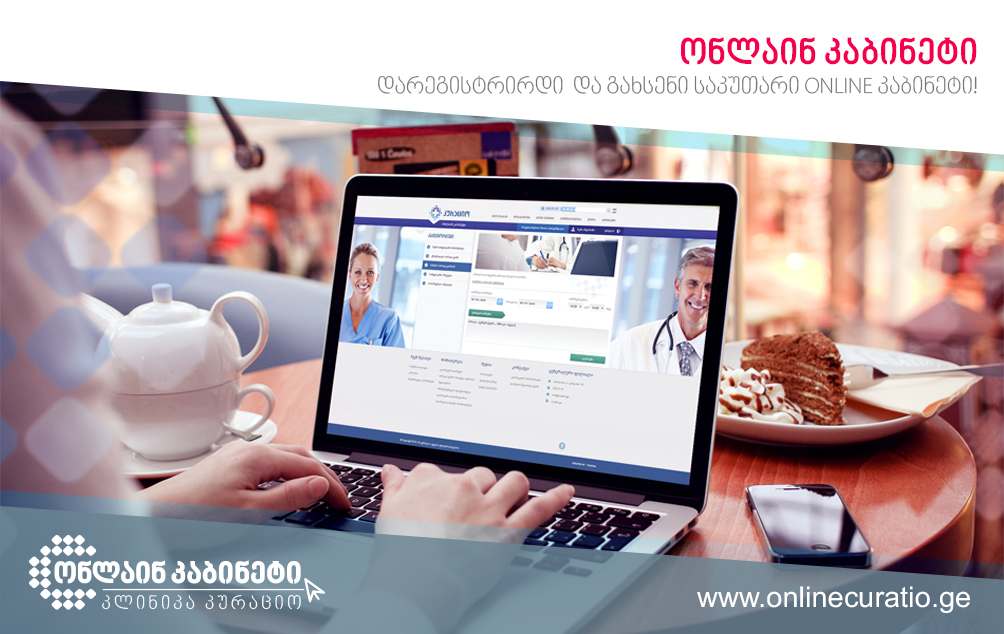 Online Cabinet
October 15, 2015
Because of our busy lifestyles it's sometimes difficult to find time to take care of our health – schedule a doctor's appointment, get all the necessary procedures and tests done or go to the clinic and get the results. Sometimes we have questions about our health but no time to go see the doctor and get the answers. What if there was an easier way to do it? What if we could consult our physicians or have our complete medical record right in front of us just like that, one click away?
Since November 2015 – we can. Innovation in Georgian healthcare – the clinic "Curatio" allows you to manage your health online via the Online Cabinet
What is the Online Cabinet?
Online Cabinet is your medical record Online, which allows you to manage your health, contact your provider and receive the information you need – without actually having to visit your doctor's office. You will not need to go to the clinic or call your doctor in order to get the laboratory or other test results. All the information will automatically be uploaded to your Online Cabinet, including: current or past health issues, doctor's prescriptions, list of current medications, list of procedures or immunizations recommended for you based on age, gender and medical history, details of your upcoming and past appointments and medical advices that could be interesting for you. The Online Cabinet allows you to contact your personal doctor any time via the Chat or even schedule or cancel an appointment without having to make a call. Your personal physician will also make a healthcare plan for you in order to prevent the future health issues. It will be uploaded to the Online Cabinet so that you have an easy access to it any time you need.
How do I sign up for Online Cabinet?
Contact reception in order to create an account for Online Cabinet. You will be given a unique code to enter during the registration procedure online. If you do not have a personal physician at the clinic "Curatio" yet, first choose one of your personal doctors. Your electronic medical record will be uploaded to your personal Online Cabinet within 2 business days. After that all your medical information, including your test results, will be uploaded automatically.
Why should I have a personal doctor?
Having a personal doctor is necessary for creating an Online Cabinet account. You will be able to contact the personal physician you chose any time you want and ask any questions you want via the Online Cabinet Chat. During your first appointment, which is free, you will give your doctor the information about your health and medical record. Also, if you are willing to, your old laboratory test results and doctor's prescriptions will be uploaded to your Online Cabinet, too. According to this information your personal physician will be able to make a plan for your future healthcare – what other diagnostic procedures or laboratory studies are necessary to control your health most effectively.
For more detailed information visit Onlinecuratio.ge or contact us: +995 577 33 01 01.